---
New Orleans Hash Calendar
---
WANT TO BE A HASHER???

So you just can't help yourself and want to join us. You want to stand around in circles and sing non PC songs and add words like "shiggy" and "on-on" to your vocabulary. You want to wear spiffy hash t-shirts, learn to point with your elbow and find out what a "down-down" is. Might we suggest one of the following:

1) Get your head examined
Head, who said head? I'll take some of that. And I did, and it was good.

2) Just show up
That's really all you need to do. The New Orleans Hash House Harriers have a hash once a week and the place and time can be found by either checking the calendar or calling the Hash Hotline.
SITE INDEX
NOH3
Sundays(CST)
Mondays(CDT)
New Orleans Hash related Groups on Yahoo -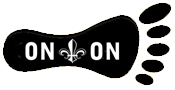 Welcome to the New Orleans Hash House Harriers' Home Page!

New Orleans Hash House Harriers
A Drinking Club with a Running Problem
---




The Cone of Silence strikes at the Hooters Hash

---
Take a look at Mardi Gras Unmasked for a great look at hashing and Mardi Gras.
---
Monthly Calendar
Check the calendar for all hash and social information.
Anybody know of other events we are doing?
Email Came Upon Me and we'll post it.
---
Call the hotline for directions and weekly drinking socials
504 889-HASH
Get the latest info
---
October 1, 1988 - Birth of hashing in New Orleans
Goals of the Hash
1938 Kuala Lumpur Hash House Harriers Charter
-To promote physical fitness among our members
-To get rid of weekend hangovers
-To acquire a good thirst and to satisfy it in beer
-To persuade older members that they are not as old as they feel

Hash Songs

There are countless Hash Hymnals that one can find on the web where you can get the lyrics to most of those inspirational ditties that you have heard sung in hash circles. We have put together a condensed version, An NOH3 Hash Songs For Dummies if you will, that has the words for several of the more regularly sung songs at NOH3. Take your time to learn a few of them. It just might save you from a down down. NOH3 Hash Songs
From the Hash Hymnal
I Love A Gangbang
(A great hash song and a good
substitute for closing religion.)

Chorus:
I love a gang bang, oh yes I do
Because it makes me feel so goo-ood
When I was younger and in my prime
I used to gang bang all the tiii-iiime
But now I'm older and turning grey
I only gang-bang twice a day-ay

Knock knock (who's there?)
Ida (Ida who?)
Ida want another gang bang... (chorus)

Knock knock (who's there?)
Turner (Turner who?)
Turner over, let's have another gang bang... (chorus)

Mister Bush
Missed her bush and hit her stomach

Gladiator...
Gladiator out before the gang bang...